Welcome!
Artistic ideas come and go, but they alwyas shape and build our history and influence people's ideologies and perspective. "Chicano art is in a most general way a community art form that expresses the experiences, feelings, ideas, and aspirations of both a very real and ideal Chicano community" 1.
In the United States, the Chicano community presents in its various ideas of gender, spirituality, religion, urban space, immigration issues and shared history of its cultural origins. The Chicano Art Movement originated from Mexican Americans' frustration, inner necessity, and resistance for basic human and distinctive cultural rights of a once neglected country.
Chicano art has its origins in the Chicano civil rights movement which culminated in 1969. Although the national and cultural birth of Chicanos is Mexican, the fact that Chicanos are born and live in the United States adopting American cultural values and qualities, makes them singular from Mexican and Mexican immigrants who choose to maintain clear with their mother culture, most often cultivated by language maintenance. Nowadays, as Central American, South American and Caribbean immigrants, as well as some Euroamericans have come to participate in Chicano art.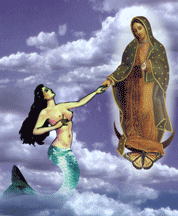 Alma Lopez. "Encuentro."
Latino Art reflects the cultural expressions of Mexican Americans who, with their material, political, cultural and artistic tradition, contribute to American culture. Even within Latino art, ideas, and artists' backgrounds often cross ethnic and class boundaries. "The Chicano art community has existed as a relatively cohesive ideological community with shared cultural aspirations since the Chicano youth and student movement of the mid-1960s, and has produced a substantial body of public artwork from about the year 1970, when the concept of a "Chicana Art" crystallized" 2. Chicano art is often defined as a simple activist, political, and informative art form that allows viewers to educate themselves about the cultural basis of the art and the objectives of the artists in order to appreciate and comprehend it. Artistic Movements are often defined as phenomena created by groups of artists producing works with chiefly similar characteristics and goals. Even though the term "art" includes every creative activity such as music, dance, theater, film, and literature, the theme of this website is focused on the "Visual Arts," which provides the "visual" expression of the Chicano people and Chicana artists being Women artists.
"Where I grew up, there was another aspect of ourselves that we cultivated, how we fit into the universe, telling jokes, music, laying tile, whatever it was that evolved that whole ability to think of our humanity," says feminist artist Cecilia Alvarez 3. Alvarez's dual perspective as a woman and aChicana in the United States is the foundation of her pieces.
Ana Mendieta. "Untitled (Body Tracks)"
Chicana feminism is defined as a "critical framework which looks at inequalities along lines of race, class, gender, and sexuality as they effect women of Mexican descent in the United States" 4. It means that sexism, racism, homophobia, and poverty are correlated issues.
These artists reveal important critiques of the Chicano movement, the women's movement, and the gay/lesbian movement, challenging people to think about the way racism, sexism, and homophobia are all embedded and related in contemporary society through their art works.
It is important to understand ethnic groups and think about their struggles as women, as well as for justice in our history and changes for the future. These various talented artists have committed themselves to expressing "Chicano" experience as a woman, who also had to go through economic deficiency and cultural alienation within the broader, dominantly white European-American culture. "By its very "Chicano" community-based nature, Chicano art is a public and political art, proclaiming and expressing public and social concerns in its themes and subjects, and even in its most private or seemingly obscure, extravagant, or initially incomprehensible examples" 5.

Enjoy browsing the numerous artists and their work; each should give you a bit more insight and understanding of Chicana in general and being a Chicana in the United States today.