The Official Home Page of . . .
THE BLACK SWAMP AIR FORCE
P.O. Box 13334
Toledo, Ohio 43613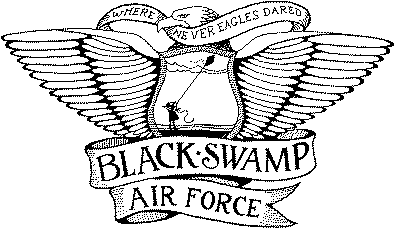 ---
---
WHAT'S THE BLACK SWAMP AIR FORCE?
The BSAF is a loosely organized group of kite fliers scattered throughout Northwest Ohio and Southeastern Michigan. We were founded in March of 1986 and we have grown to over 300 members.
WHERE'D YOU GET THAT NAME?
The BSAF takes its name from the treacherous Great Black Swamp which covered all of Northwest Ohio until as recently as one hundred years ago. Today, the Swamp is mostly drained and the trees have nearly all been cleared. The landscape which remains is so flat that it's frightening, but it does provide a haven for kitefliers.
ISN'T KITE FLYING FOR KIDS?
Yeah. . . and so's Inline skating, bicycling, wind surfing, jet-skiing and most of the other fun stuff that you see otherwise normal grown-ups pursuing as weekend warriors! Kite flying has enjoyed a worldwide renaissance and is now a year round sport with the advantage of mulit-level involvement. You don't have to be in shape to hang from the end of a string on a balmy spring day, but it certainly helps if you plan an assault on a frozen Maumee Bay wearing sharp skis powered by a power kite in mid winter!
If you are fearful of PDF(Public Display of Fun) we'll be your support group. We'll show you how to have fun with kites in ways you never imagined! (ever see a parachuting Teddy bear?) As a matter of fact, we have a number of members who have never been seen flying a kite, but they sure know how to party!
Think of kite-flying as therapy!
WHEN DO YOU GUYS FLY?
The BSAF meets informally (very informally) on the first Saturday and third Sunday of every month from 1:00 to 3:00pm. The fair weather fliers usually wimp out during the winter, but the hard-core lunatic fringe is out there ice flying and munching on BBQ even in subzero temperatures. Actually, just about any day when the wind is up, you'll find some of our members painting the sky over the park.
WHERE?
We have settled on Maumee Bay State Park as the near-to-perfect flight site. There may be better flying fields in the area, but probably none with cleaner wind. MBSP is located about fifteen minutes away from downtown Toledo northeast of Oregon, Ohio. The park is located on Cedar Point Road two miles north of Rt. 2 in Oregon. The best entry into the Park is by way of Norden Road, which intersects Rt. 2. We fly in the field between the sledding hill and the beach.

Click Here for Park Information
SO YOU FLY KITES, IS THAT IT?
In addition to the bimonthly kite flys, we schedule workshops for both adults and kids throughout the year. The adult workshops range in subject from delicate little indoor kites made from postage stamps that fly on a gnats breath, to massive hurricane-proof kites designed for aerial photography. For the kids, we offer our signature tie-dyed sled kite workshops at various locations throughout the summer.

---
For more information, contact:
Terry Gizmo Gerweck - tlg@tdi.net
Wind Junkie, Dreamer, & Tinkerer Extraordinair