Pamela the Novel

An illustration from the 1741 edition of Pamela
Pamela as a literary phenomenon in 18th-century England
Pamela, or Virtue Rewarded appeared in two volumes in November 1740 and soon turned into what we nowadays call a "best-seller," the first example of that phenomenon in the history of English fiction. Everybody read it; there was a 'Pamela' rage, and Pamela motifs appeared on teacups and fans, as Margaret Ann Doody reports in her introduction to a modern day edition. The novel was praised for its psychological veracity and its moral influence on the readers.
Some critics condemned Pamela as a representation of the undignified and the low, seeing in the story of a servant girl "climbing the ladder" of social class, a pernicious 'levelling' tendency. Pamela has had significant impact on the novel as a literary genre, as an experiment in epistolary form, as a study of ethics, human (and particularly women's) psychology, and as a case of early negotiation between literature as education and literature as entertainment.
Samuel Richardson, the author of the novel, spends a lot of breath at the beginning of the novel trying to convince the readers that Pamela is based on a true story. The connection between truth and literature was meant to persuade the readers that the moral of Pamela's character's story is "real," and therefore an efficient tool of ethical edification of young women, who were at the time devouring all kinds of prose, regardless of its moral turpitude.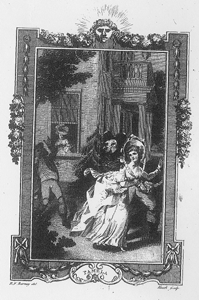 An illustration from the 1785 edition of Pamela
Richardson's Sources of Inspiration for Pamela
The Letter-Writer
By the standards of polite society, Samuel Richardson was scarcely better off socially than his narrating heroine. Richardson (1689-1761), son of a respectable working-class man, had a little schooling and always loved reading. However, by the standards of his contemporaries he was not an educated man (he had no knowledge of Latin and Greek), and he was certainly not a gentleman. In 1739 Rivington and Osborne, booksellers, asked him to produce a little book of sample letters, a known sort of helper-book at the time, which provided models of business and personal correspondence to assist the semi-literate. The 'letter-writer' had been a minor genre of popular literature for over a century, and it was customary for their authors to indulge in a certain amount of character-drawing and humor, especially in capturing the speech of the country folk and the working classes.
Richardson became unexpectedly fascinated by his new project, and a small sequence of letters from a daughter in service of a young and sexually aggressive gentleman, asking her father's advice when she is threatened by her master's advances, became the germ of Pamela. Familiar Letters on Important Occasions was put aside until the novel was finished.
Fiction by Women
In order to write Pamela, Richardson drew profusely on the English popular fiction of his lifetime. A great number of novels written specifically for women, and frequently by women (Elizabeth Rowe, Mary Davys, Jane Barker, Eliza Haywood), appeared between 1700 and 1740. These works dealt with experiences of women in the trials of love. Few of these novels lasted very long on the market, or received much general attention. Some featured stories of love and courtship, others of love and seduction (or even rape). The authors showed their heroines to endure restriction and passivity, and prove that they have the capability to think and fend for themselves. The heroine, however disadvantaged, could implicitly defy the world of masculine authority around her by becoming the center of the narrative, with masculine characters only figures in her story.
Epistolary Form
The novel in letters (epistolary novel) had existed before Richardson, but not in the context in which he used it. Since the publication of Lettres portugaises of 1669, which was thought of as a collection of real-life letters by a Portuguese nun to the French cavalier who had abandoned her, the epistolary mode had been recognized as presenting the voice of love. A classical precedent for the form can be found in Ovid's Heroides.
Richardson's interventions in the novel genre
Richardson adapted the motifs of popular feminine and domestic fiction, using it to a stronger psychological effect. He gave voice to a heroine whose "soul is of equal importance with the soul of a princess," with whom women readers could identify because she was English (unlike many aristocratic heroines of romance novels), because she came from the working class, and was tryingn to make her way through the world. Pamela is threatened by Mr. B., a man with every power imaginable. As her master, employer, and justice, he can abuse her only because she comes from a lower class. For a while, she even becomes his hostage, and almost a victim of rape, but eventually marries him out of love, having preserved her virtue and impressed him with her perseverence.
Richardson incorporated aspects of the different literary predecessors into his work: the educational, the entertaining, and the utilitarian. His makes the "love" letters addressed not to a lover, but to Pamela's parents, restricting and re-defining the genre of letter-writing and of the novel. The letter in Pamela is not a a part of private communication, whose contents might better be kept secret, or whose pathos invites readers' pity. Rather, it is an expression of exemplary ethical and emotional feeling whose virtue and chastity warrant publication.
Publication History of Pamela
Pamela was first published anonymously in two volumes in November 1740. A revised edition with a lengthy introduction was published in February 1741, and three further revised editions were published that same year. In December 1741 a two-volume sequel was published, written in response to numerous criticisms, parodies and spurious continuations of the original work that interfered with Richardson's literary and ethical mission. In 1742, a deluxe, illustrated octavo edition (the one illustrated by the French engraver Gravelot) of all four volumes was published, in which the text was again revised and the much criticized introduction replaced with a voluminous table of contents, summarizing each letter and journal entry. Two further revised editions of the first part of Pamela were published in 1746 and 1754, and shortly after Richardson's death in 1761 another four-volume edition was published, containing what was subsequently assumed to be the final text of the novel.
During the 1750s Richardson had undertaken an extensive revision of Pamela, making numerous stylistic alterations while adding and deleting phrases, sentences, paragraphs and even lengthy passages of several pages. Richardson did not print the resulting text during his lifetime, but it was preserved by his daughters after his death, and finally used as the copy text for an edition of Pamela published in 1801. The provenance of this edition was first demonstrated in an article by Richardson's biographers, Eaves and Kimpel, in 1967. The interleaved copy text, however, is not known to have survived.
Our project is limited to the editions published in the eighteenth century, for the purposes of limiting the analysis of the composition of images and text, as well as changes in visual representation of characters to the period before the French Revolution. The changes in illustration quality and content reflect many changes in the cultural climate between the first edition of 1741 and the end of the century. Editions with illustrations of lower quality are interesting in their own right as indications of the fate of literary works once their fame takes them beyond the influence of their author.
Source: Margaret Ann Doody, Introduction to Samuel Richardson's Pamela, Viking Press, 1995