Samuel Richardson, the Author of Pamela

(and a printer on an ordinary day...)
Samuel Richardson was born in Derbyshire in 1689, the son of a London joiner (a kind of skilled workman who makes the wooden fittings of a building, e.g. window frames and doors). He received little formal education, although his family had hoped that he would become a priest. Due to the lack of means, in 1707 he was apprenticed to a printer in London. Thirteen years later he set up his own shop as a stationer and printer and became one of the leading figures in the London trade.
As a printer his output included political writing, such as the Tory periodical The True Britain, the newspapers Daily Journal (1736-7) and Daily Gazeteer (1738), together with twenty-six volumes of the Journals of the House of Commons and general law printing. Richardson had married his employer's daughter, Martha Wilde, and they had six children. Sadly, she and all their children died. He married again, and had six children with Elizabeth Leake, and although two of them also died of childhood illness, four survived.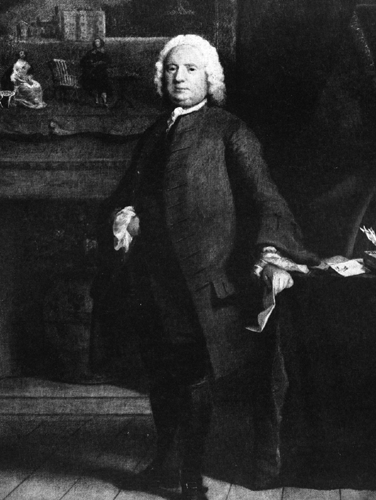 A portrait of Samuel Richardson by Joseph Highmore
Richardson's literary career began after he was in his fifties and well-established as a printer, when two booksellers proposed that he should compile a volume of model letters for unskilled letter writers. While preparing this, Richardson became fascinated by the project, and a small sequence of letters from a daughter in service, asking her father's advice when threatened by her master's advances, formed the germ of Pamela; or Virtue Rewarded (1740-41). Pamela was a huge sucess and became something of a cult novel. By May 1741 it reached a fourth edition and was dramatized in Italy by Goldoni, as well as in England.
Richardson's other most popular work, also regarded today as his best work, is Clarissa or, the History of a Young Lady, published in 1747-8. This novel is a tragic story of a girl who runs off with her seducer, but is later abandoned.
Richardson's novels were enormously popular in their day. Although he has been accused of being a verbose and sentimental storyteller, his emphasis on detail, his psychological insights into women, and his dramatic technique have earned him a prominent place among English novelists. His last novel, The History of Sir Charles Grandison, appeared in 1753-4. Richardson received great fame for his writing and had many admirers. He died in 1761, and is buried in St. Bride's Church, London.
Sources: Margaret Anne Doody's Introduction to Pamela,
Columbia Encyclopaedia at http://www.bartleby.com/65/rc/RchrdsnS.html,