T. Y. James Lab
Biological Sciences Building, Rm. 4050
1105 North University
Ann Arbor, MI 48109-1085


News:


Feb. 20, 2023.
Congratulations to PhD candidate
Alden Dirks
who published his first thesis chapter on the distribution of the toxin gyromitrin in the false morel genus
Gyromitra
recently in
Mycologia
!

Link to paper
here
.


Jan. 10, 2023.
Michigan Mycology welcomes two new postdocs, Dr. Yi-Hong Ke and Dr. Saleh Rahimlou. Yi-Hong will be working on the evolution of mitotic recombination and single cell genomics, and Saleh will be working on metagenomics of
Malassezia
and mycoviruses. Welcome!
Sept. 6, 2022
. New paper on chytrid fungal phylogeny and ploidy evolution
published
. Thanks to all U. Michigan folks for their hard work: Kevin Amses, Rabern Simmons, Kensuke Seto, Gustavo Jerônimo, Anne Bonds, Alisha Quandt and William Davis. Thanks also to Jason Stajich, Joyce Longcore, Joey Spatafora, Nick Buchler, the fungal folks at the Joint Genome Institute and many others for their contributions to this fun (and long-running) collaboration.

June 12, 2022.
There are still a few slots left in our chytrid workshop!
We are hosting a chytrid workshop this summer at the University of Michigan Biological Station. Please follow this
link
to find more details. It will be a fun place to spend a week learning more about this group and getting hands on practice working with these organisms.


May 23, 2022
: Registration is now open for the Annual User Meeting, this time in person at the new JGI facility in Berkeley, California. The program looks exciting with Jennifer Doudna delivering a keynote lecture!


Feb. 1, 2022.
Thanks to Dr. Rabern Simmons for his 5 dedicated years as a postdoc in the Michigan Mycology group. Known as an early riser, chytrid cultural authority, and Nanopore Guru, we tip our hat to you. Rabern is now the Curator of Fungi at Purdue University. Shown here is a picture with PhD advisor Dr. Joyce Longcore.

Oct 1, 2021.
Welcome to new postdoc Dr. Tamilie Carvalho (second from left) from Felipe Toledo's lab. Tamilie will be working on development of
Hymenochirus
as a model system to study aquatic symbioses.



July 13, 2021
. Registration is now open for the JGI Annual Genomics of Energy & Environment Meeting which will be held virtually from Aug 30-Sept. 1, 2021.


There is also a fascinating New Lineages of Life symposium that will commence over 5 weeks. Check it out!
https://usermeeting.jgi.doe.gov/2021-nelli/2021-nelli-agenda/

May 18, 2021.
Congratulations to Dr. Kevin Amses who successfully defended his PhD thesis: "Single Cell Sequencing Facilitates Genome-enabled Biology in Uncultured Fungi and Resolves Deep Branches on the Fungal Tree of Life". Kevin is now off to work with Prof. Jessie Uehling at Oregon State University. Good luck and congratulations Kevin!


Oct. 6, 2020.
Our
new paper
on the CZEUM collection has just been published in IMA Fungus. Congratulations Rabern!


Sept 24, 2020.
In the last month and a half two students we are thrilled to have witnessed two members of the mycology group to successfully defend their PhD theses.
Congratulations to Dr. Buck Castillo who defended on Sept. 11 his thesis "Fungal Community Structural and Functional Responses to Disturbances in a North Temperate Forest"!
Congratulations to Dr. Jillian Myers who defended on Aug. 13 her thesis "The Diversity of Mycoviruses in the Early-Diverging Fungi and Their Evolutionary Implications"!


Sept 8, 2020
. Dr. Myers' publication on mycoviruses in early diverging fungi is now available in
mBio
.


June 27, 2020.
Congratulations to Dr. Kensuke Seto for winning the 29th Young Mycologist Award of the Mycological Society of America AND for winning the Naohide Hiratsuka Award for best paper In
Mycoscience
.
Kensuke's award presentation is
online
! (Japanese). Congratulations!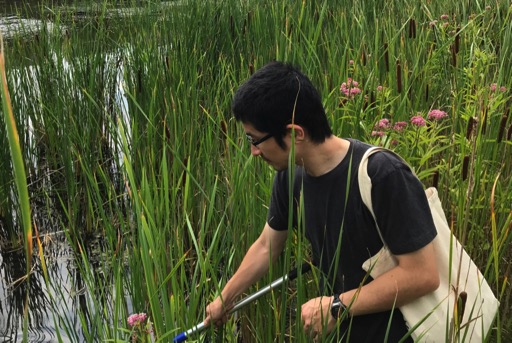 May 28, 2020.
Life goes on in the new normal for the Michigan Mycology Lab. Group photo from a weekly lab meeting. It helps lift the spirit to see the funguys and fungals!



Feb 26, 2020.
We are hosting a hands on workshop on chytrids (zoosporic true fungi) at the University of Michigan Biological Station Aug. 10-14, 2020. For more details, please follow this
link
.

**Unfortunately due to the current COVID-19 pandemic the workshop has been postponed to 2021.**

Aug 1, 2019.
We are proud to roll out the Collection of Zoosporic Eufungi at U. Michigan (CZEUM)
website
. The CZEUM collection was founded by NSF supported transfer of the incredible collections of Drs. Joyce E. Longcore, Dr. Martha Powell, and Dr. Peter Letcher. The CZEUM collection aims at maintaining this biological resource and providing cultures to other chytrid researchers. The CZEUM collection is stored at the Research Museum Center's Cryopreservation Facility.



July 30, 2019.
Congratulations to Dr. Anat Belasen for successfully defending her thesis "The Impacts of Habitat Fragmentation on Amphibian Genetics and Health in the Brazilian Atlantic Forest Biodiversity Hotspot". Well done! Anat is off to Cornell University to work with Dr. Kelly Zamudio as a Smith Conservation Research Fellow. Anat is pictured below with her committee.


May 31, 2019.
Welcome to Dr. Kensuke Seto who is a new postdoctoral fellow supported by the Japan Society for the Promotion of Science. Dr. Seto is an expert on the systematics of chytrid parasites of algae.



Mar 3, 2019.
A belated welcome to Dr. Shuhua "Carol" Ge who is visiting from the Chinese Academy of Sciences in Beijing (Inst. of Microbiology) for 1 year. Carol will be working on mitotic recombination in yeast.
Nov 26, 2018.
Our first fungal single cell paper published in
Nature Microbiology
. Ahrendt et al. "
Leveraging single-cell genomics to expand the fungal tree of life
"


July 27, 2018.
Students return from 11th International Mycological Congress in San Juan, Puerto Rico with high honors!
Congratulations to Kevin Amses for receiving a best student oral presentation for his talk "
scgid
, a bioinformatic tool for scaffold binning and genome prediction from metagenomic sequencing libraries."
Hats off to Jillian Myers for receiving a best student poster presentation for her poster "How common is mycovirus host-switching in nature?"


News archive
We have been working on the fungal group known as Rozellomycota/Cryptomycota/Rozellida, trying to understand the ecological function, morphology, and host range. This group of parasites appears to have undergone numerous independent gene losses and is now clearly basal to the more well known group of endoparasites known as Microsporidia. We produced a phylogenomic analysis using a genome of
Paramicrosporidium saccamoebae
, see
paper
published in eLife led by former postdoc Alisha Quandt.