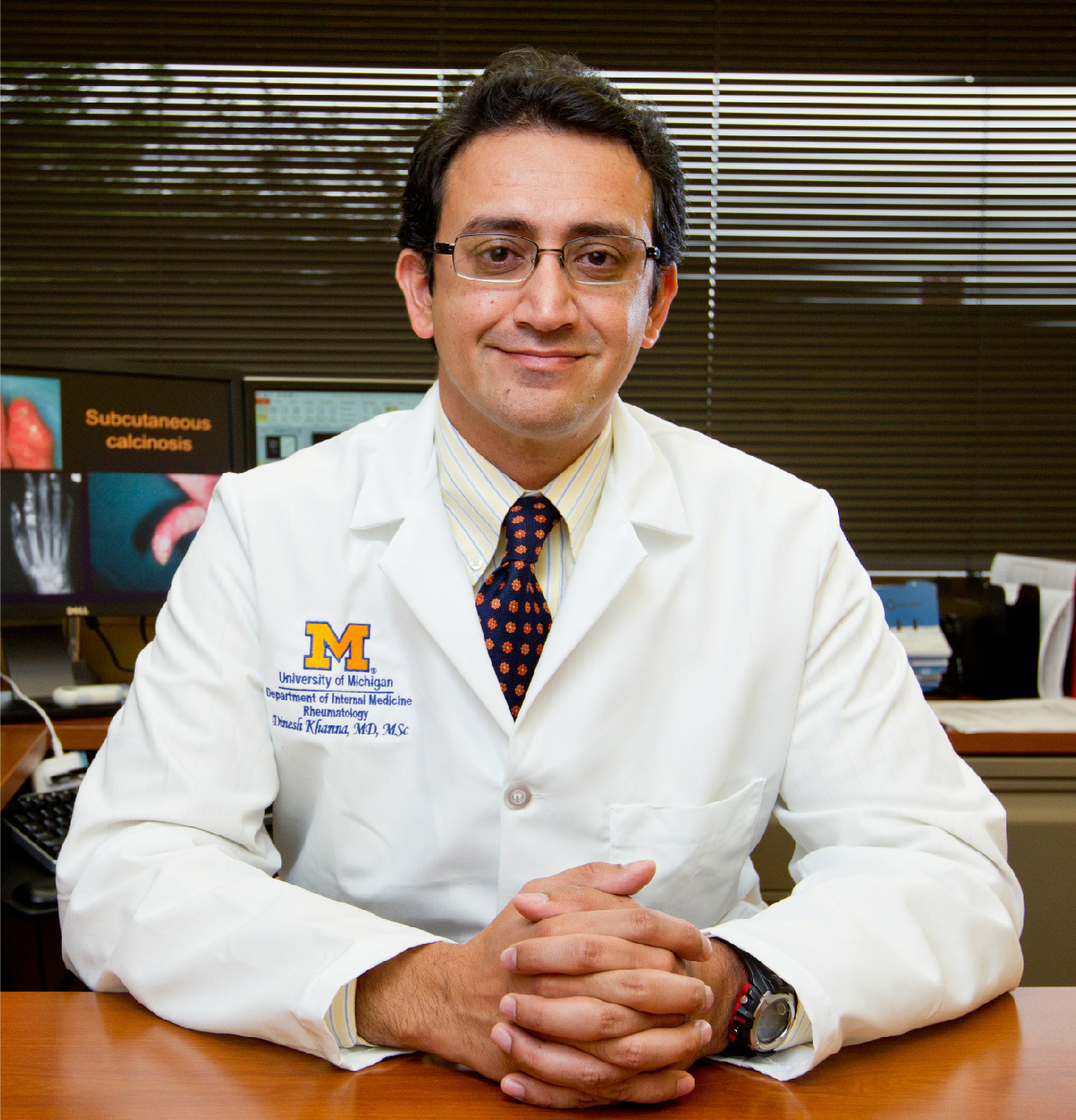 Dinesh Khanna, MD, MSc
Associate Professor of Medicine and Director, University of Michigan Scleroderma Program.  He holds the Frederick G.L. Huetwell Professorship in Rheumatology.  Dr. Khanna has published over 200 peer-reviewed articles and book chapters. He is the Principal Investigator on National Institutes of Health and industry-sponsored clinical studies. He is currently leading trials of abatacept, riociguat, pirfenidone, and tociluzimab in scleroderma.  Dr. Khanna also serves as a reviewer for several professional journals, society committees and training programs, and grant applications.  His current research focus on developing, validating, and refining outcome measures in rheumatic diseases and designing controlled trials. 
He received the 2011 'Doctor of the Year' award from the Scleroderma Foundation. More information is available at www.med.umich.edu/scleroderma
Daniel Furst, MD
The first Carl M. Pearson Professor in Rheumatology at the University of California, Los Angeles (UCLA), Medical Center. He has been on a number of national committees concerned with rheumatic therapeutics, including as a member and fellow in the American College of Rheumatology and The American Society of Clinical Pharmacology and Therapeutics. Dr. Furst has published more than 400 articles and 12 books, including more than 180 research articles and more than 210 reviews or chapters, in addition to two editions of a book on scleroderma. Dr. Furst's areas of research interest include RA, scleroderma and polymyositis/dermatomyositis.
David A. Fox, MD
A member of the faculty of the University of Michigan School of Medicine since 1985, Dr. Fox is Professor of Internal Medicine and, since 1990, has been Chief of the Division of Rheumatology. In addition, he has directed the University of Michigan Rheumatic Disease Core Center since 2001. In 2013,  Dr. Fox was endowed as the Frederick G. L. Huetwell and William D. Robinson, M.D. Professor of Rheumatology.
Dr. Fox's research focuses on defining and characterizing pathways of human T cell activation, determining the role of these pathways in the pathogenesis of autoimmune disease, investigating T cell interactions with synovial fibroblasts, regulating autoimmunity with genetically modified dendritic cells, and understanding the role of interleukin-17 in arthritis. He is author of more than 180 scientific papers and book chapters and has served on the Editorial Board of Arthritis & Rheumatism and as an Associate Editor of the Journal of Immunology and the Journal of Clinical Investigation. He is a member of the American Society for Clinical Investigation and the Association of American Physicians.
In 2007-2008, Dr. Fox served as the seventy-first President of the American College of Rheumatology and the sixth ACR President from the University of Michigan.
Cathie Spino, SC.D
Associate Research Professor and Director of Statistical Analysis of Biomedical and Educational Research (SABER) in the Department of Biostatistics.
As the Director of SABER, she collaborates with investigators on the design and analysis of multi-center clinical trials or other research projects, and provides oversight of the infrastructure necessary to conduct these studies, including project management, clinical monitoring, database development and web-based data entry. She joined the Department of Biostatistics at the University of Michigan in September 2007, after spending ten years in the pharmaceutical industry as a statistician and statistical manager. She began her career in academia as an assistant professor in the Department of Biostatistics at the Harvard School of Public Health, after receiving her D.Sc. degree there in 1989. She was a statistician in the Statistical and Data Analysis Center (SDAC) of the AIDS Clinical Trials Group (ACTG), and eventually served as the Assistant Director of SDAC for the Pediatric ACTG. Her research interests include clinical trials methodology, particularly adaptive designs, and women's and children's health.
Robert Lafyatis, MD
Following residency training in Internal Medicine at the Bowman Gray School of Medicine, Dr. Lafyatis began his research career studying fibroblast biology and the molecular biology of TGFβ at the National Institutes of Health. After further post-doctoral training at the Pasteur Institut in France and University of North Carolina, he joined the Boston University Medical Center Scleroderma program in 1995. Working with the late Dr. Korn, Dr. Simms, Dr. Farber and Dr. Trojanowska, he has developed a strong translational research program examining the pathogenesis and treatment of systemic sclerosis. This program places a strong emphasis on identifying biomarkers in patients with systemic sclerosis. This research is designed to better understand fibrotic, immunologic and vascular abnormalities that lead systemic sclerosis and its complications, such as pulmonary arterial hypertension and interstitial lung disease. These biomarker studies have shed important light on pathogenesis, but also have been applied successfully to early phase clinical trials allowing more complete and informative assessments of therapeutic effects and responses.
Michael Whitfield, PhD
Associate Professor of Genetics at the Geisel School of Medicine, Director of the microarray core for the SSc NIH P50 Center of Research Translation (CORT) and the NIH-NIAMS P30 Microarray Core for SSc that provides high-throughput genomic expertise and data analysis to the SSc community nation wide. Dr. Whitfield is the PI of multiple studies investigating basic biology of SSc and associated mouse models. He is a leader in the molecular gene expression assessment in SSc clinical trials.
The work in Dr. Whitfield's lab has focused on understanding the heterogeneity that has confounded our understanding of systemic sclerosis (SSc), and the interpretation of molecular data clinical trials. His group has been able to capture the heterogeneity in SSc at the molecular level with gene expression profiling and NextGen sequencing. These studies have recently shown that different drugs target each subset ushering an era of personalized medicine in SSc. Using Network based approaches we have mapped many of the molecular processes found in SSc end target tissues.
Steering Committee:
Dr. Yannick Allanore, MD, PhD, Paris Descartes University, France
Dr. Lorinda Chung, MD, MS, Stanford University, USA
Dr. Christopher Denton, MD, PhD, University College London, UK
Dr. Marco Matucci Cerinic, MD, PhD, University of Florence, Italy