WHAT YOU CAN DO TO HELP
Last update: 7/10/04
Meet Lee: Care Coordinator in Salt Lake City!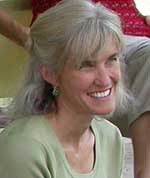 Lee Ellington, a fellow member of First Unitarian in Salt Lake City, continues as our thoughtful and thorough care coordinator. Lee's been helping us out since early April. We are so grateful for her tireless care of our kitties while we were away and for the many meals she's arranged for others to bring us. She even figured out how to get our streetlamp repaired by another church friend when it blew away back in April!
If you are interested in offering help, you can contact Lee via email at Lee.Ellington@nurs.utah.edu or via phone at 585-9844. Thank you all!!!
It became clear to us in June that Simon has entered his dying phase. Despite further anti-cancer treatment and good energy in May, his disease was spreading around his body, especially in his skeleton. We have accepted this unstoppable turn of events and switched our care focus from treatment in hopes of cure or longer life to aggressive palliative care to manage pain and other discomforts.
As we progress through this strange and challenging phase of Simon's care, we appreciate offers of help, and we will use this page to offer guidance on how kind souls can best come to our aid.
We have now been in Salt Lake City for 12 months (the anniversary of our arrival is July 11). Although we are feeling fairly settled in, we still appreciate understanding and support for our relative newness in the area.
If you are a new friend in Salt Lake City, please consider sharing of your time and expertise with us in some of the ways listed below. If you are a friend or family member located further away, please know that we appreciate the support you offer on Simon's MESSAGE BOARD, through photo-greetings (see STORIES FOR SIMON, through setting up an Alex's Lemonade Stand in honor of Simon, and through thoughtful (and delicious) items sent by mail. Many of you think of wonderful ways to reach out to us that we couldn't possibly anticipate. We are grateful for all the support.
Some things you can consider doing to help Simon and his family through cancer
Care coordination: Lee Ellington is doing a mighty job of coordinating care and delegating tasks to many helpers. If you feel that you would be a good alternate care coordinator, please contact Lee (via email at Lee.Ellington@nurs.utah.edu or via phone at 585-9844) to let her know. She has a life of her own, and she may need help or respite along the way!

Meals: call (585-9844) or email Lee Ellington, our zip code coordinator from First Unitarian in Salt Lake City. Lee can take your name and number and fit you in to the current Monday/Thursday meal delivery schedule! Please see our Food Guidelines for the Craig/Vodosek Family.

Shopping & Errands: Lee Ellington (see contact info above) and our neighbor Theresa Ostler are coordinating a daily errand runner. Call or email Lee to get yourself into the rotation. These helpers take on all kinds of miscellaneous tasks, enabling us to focus on time together as a family. Common destinations include Albertson's, Wild Oats, Costco, Salt Lake City Library, etc.

Hospitality and/or childcare: For the forseeable future, we won't be getting out to visit with others as a family. Simon prefers to stay quiet at home, and he is not participating much in eating these days. However, we are still cultivating friends, especially for Miriam. We have to be careful how often we send Miriam off with other folks because she has grown pretty sensitive about that. Still, perhaps you have an exciting adventure planned that she might join you for. For example, her friend Cassidy and mom Nicole recently invited her along for fun days of picnicking and playing in the water park in Liberty Park. You can email us at simonandfamily@umich.edu with ideas.

Garden Help: Are you a gardening buff here in Utah? As newcomers to this climate (and first-time homeowners), we don't know much about the best way to care for our small lawn and garden at our new house. If you have the time and expertise to come over and tell us what we've got and how best to care for it, we'd be grateful! Email simonandfamily@umich.edu to let us know you can help.

Donate blood! (Simon and others need a well-stocked general blood supply.) The best way you can help is to donate blood locally to the general supply. Call 1 800 GIVE LIFE or visit the Red Cross.) So far, Simon has received many units of donor blood and, especially during his platelet crisis in the summer of 2003, many transfusions of platelets in four different locations (Ann Arbor, New York City, Traverse City, and Salt Lake City). The intensive treatments of stem cell transplant and MIBG radiation therapy have left Simon transfusion-dependent for weeks at a time. For those unfamiliar with platelet donation, please consider making a specific donation of platelets for children like Simon. It takes longer (about 90 minutes), and your blood will go through an apheresis machine. Single-donor platelets offer longer-lasting results and fewer risks to the patient (side effects, developing immunity to donor platelets, etc.).

Help us remind Simon's sister, Miriam, how special she is. Remember to make a fuss over her when you see her!

Hold an Alex's Lemonade Stand in Simon's honor!

Stay with us! Simon was diagnosed with cancer on December 26, 2001. He remains in active treatment, and we can't predict when he'll have a respite from needing treatment to keep his cancer at bay. So, we'll be needing your support for a long time to come. If you've wondered how you can help, please stay interested! We value all offers of help, and we'll be in touch when we need something!

Explore this web site (we're updating WHAT'S HAPPENING most often) and participate in our message board. Simon's caring community puts interesting messages, jokes, and other moral support there pretty much every day. Mary and Markus enjoy all these messages, too!

Send mail to Simon:
Simon Vodosek
1463 Roosevelt Avenue
Salt Lake City, UT 84105!

Think wonderful, positive, healthy, peaceful thoughts for Simon!
All the loving help we receive really does make a difference! See the May 6, 2002 entry on the SIMON SAYS Archive May 2002 page for Simon's appreciative description of how great it is to have meals provided to us.

We dearly miss our wonderful helping community in Ann Arbor, led by Sandra Walls at the First Unitarian Universalist Church. So many friends from work, Family Housing, and the church helped us in so many ways. We know you are all still out there, cheering Simon on. We also miss being a quick drive away from Mary's parents Ann and Norm Craig in Oberlin, Ohio. All of you made our busy lives in Ann Arbor possible, and we thank you for every little and big thing you have done to help us. The feeling of being cared for offers true, deep healing. Thank you all!