<!

<! A HREF="Example.html"> <! A HREF="http://www.aps.org/units/dmp/vortex.html" >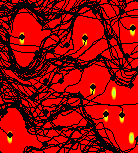 <!A HREF="http://applied.physics.lsa.umich.edu/images/vorts.jpg"> <! IMG SRC="jared.jpg" > <! IMG WIDTH=138 HEIGHT=153 ALIGN=right /A>

<!
Our research work is interdisciplinary and explores the interface between condensed matter, atomic physics, optics, quantum optics, nano-science, quantum information, and computing. We are also studying quantum nano-electronics, opto-mechanics, nano-mechanics, biophysics, light-to-electricity conversion, and photonics.

Physics Department, The University of Michigan, Ann Arbor, MI 48109-1040



Also with the RIKEN Advanced Science Institute, Saitama, Japan. <! BR clear=LEFT >
---
---
For information on our more recent research (done during this century), please see our publications from 2000.
All the PDF files are available here:
*Updated* list of Publications grouped by topic
The links below correspond to our research work done (mostly) during last century.
---
Quantum Computing ( Not updated since 2002 or so )
---
---
Collective Transport in Disordered Systems ( Not updated since last century )
---
---
Suppressing Quantum Noise in Solids: Squeezed Phonons ( Not updated since last century )
---
---
Feynman Path-Integral Analytical Studies of Quantum Interference:
Superconducting Networks, Josephson junction Arrays, and Electron Motion in Magnetic Fields
---
---
Course (Physics 406): <! http://www-personal.umich.edu/~nori/Public/html/physics_406.html > <! umich.edu/user/n/o/nori/Public/html/physics_406.html > Statistical Mechanics and Thermodynamics
Course: Rackham Interdisciplinary Seminar on Spatio-Temporal Complexity in Science and Engineering.
---
This page has been visited
times since 2/12/96. Last Update: 06/99. Initial version prepared by: Bartholomew Hsu and Jared Groth.
Return to the U of M Physics Department Homepage
<!A HREF="http://www.umich.edu/"> <! The University of Michigan Homepage /A>