WHAT'S HAPPENING Archive August 2004
August 18, 2004 "Noticing 'Firsts' and Other Aspects of Early Grief"
It is a time of a strange dullness for our little household. Grann/Ann went back to Ohio on Monday morning. We're still receiving bi-weekly meals and some errand help, and that keeps us going. Of course, it's become a lot easier to do our own errands now that we aren't caring for Simon around the clock.

Plans are sifting into place for various upcoming events. Markus begins teaching on August 25. Fortunately, it's the core MBA course in management, and he's taught the course several times before, so the preparation doesn't seem to worry him. Still, I hope he has the stamina to teach.

Miriam will start her second year at the Virginia Tanner Creative Dance Fine Arts Preschool on September 8. She and I are enjoying her "back to school shopping", which is mostly about getting dance slippers, leotards, and cute floaty skirts. We stopped by her school yesterday and had a good visit with the preschool director, Misha Bergman, and several of the other teachers, including the dance school director, Mary Ann Lee. Miriam is looking forward to being in the "big kid" group this year, after her first year in the "middle" group. With her birthday on September 20, she's turning 5 just 20 days too late to start kindergarten in Salt Lake City. We hope that the chance to have another year in the nurturing space of her preschool will help her adjust to life without Simon.

I (Mary) have been noodling along, noticing "firsts" as they occur. Yesterday afternoon, Miriam and Markus went out together, and I was suddenly alone in the house for the first time since Simon's death. This evening I rehearsed with the Unitarian choir, another first without Simon to check in on when I return home. And so on. Fortunately, I can look forward tomorrow afternoon to my *second* massage in my post-Simon life. It's one of the best ways I know to care for myself through all of this heartache and change. Plus yoga class, which I've done twice now since Simon died.

Please note the new section on this Web site called SIMON'S LEGACY. It now contains tributes to Simon, and it will soon contain further information about the Simon Craig Vodosek Memorial Fund.
For those planning to attend Simon's memorial service on Saturday, August 28, 11:00 am at the First Unitarian Church of Salt Lake City (with activities for kids starting at 10:00 am), here is some guidance on wardrobe for the service. Simon loved vibrant colors. He wore a magenta winter coat. His favorite outfit (see Miriam's drawing in her tribute) was a yellow-magenta-blue tie-dye t-shirt with red sweat pants and matching tie-dye socks. When he helped me pick the colors for a sweater I was making for him, he refused to let me use any neutrals like grey or brown. Simon liked COLOR. Just look at this photo of the rainwear he selected from the Land's End catalogue. So, we highly recommend you think about wearing a colorful outfit to Simon's service--one that helps you feel the joy of his wonderful spirit.
August 12, 2004 "These Days"
We are glad to have early word from many friends and family that they will be joining us for Simon's service on August 28. Lee Ellington has been collecting information and sending it our way. If you'd like to contact her directly, please do so: Lee.Ellington@nurs.utah.edu or via phone at 801.585.9844. Lee is working on a hotel that will offer a discount rate, and she is also matching out-of-town visitors with local hosts.

We are slowly working our way through plans for the service. The main part of the service will begin at 11:00 am on Saturday, August 28, and we intend to begin pre-activities around 10:00 am. The service will be at First Unitarian in Salt Lake City. If you are coming in from out of town, you'll probably want to get in by Friday night. There's lots going on in Salt Lake City, so plan to stay a few days and enjoy the place, if you can.

With the help of experienced fundraiser friends, we are also working through decisions about the best way to set up a memorial fund in Simon's name. We'll keep you posted on that. We enjoy thinking of ways to celebrate the things that Simon loved (theater, music, family time, playgrounds).

It's funny how Markus, Miriam, and I have spent some rather carefree afternoons shopping together. We feel a freedom of movement that was absent for a long time. We try to inhabit the space around us without Simon here. We are unburdened in many ways; time seems elongated. There is also an emptiness that surrounds our moments.

On Tuesday morning, our funeral director from the mortuary delivered to us the urn with Simon's ashes. We believe the cremation took place on Monday. The urn is a stunning onyx vessel. Its butterscotch browns mingle with sage greens, deep reds, whites, and pinks. Its natural beauty, solidity, and graceful surface are a fine tribute to Simon. We plan to have the urn interred at Mt. Olivet Cemetery, but not until after Simon's memorial service.

Grann and Granddad returned on Wednesday from Idaho, and the five of us went to Park City for the Deer Valley Music Festival. We heard a performance by the Utah Symphony and Chorus of the Mozart Requiem. The concert was conducted by an Oberlin graduate named Scott O'Neil ('93). Miriam, Markus, and I talked to the soprano soloist, Lisa Hopkins, during the intermission. She was lovely, and she expressed a kind interest in our family's time of loss. Miriam was a great audience member at a very grown-up concert.

We are tired, numb, busy, hungry, not hungry, weepy, wistful, and cuddly. We are taking time to do things long neglected (a rug for the living room; plant food for the garden; tidying up). We are treading our path carefully, trying to make sure that each foothold is stable enough. Sometimes a searing awareness of loss shoots through. We ride the waves as best we can. We wonder what our grieving will teach us. We crave and give each other space.

Dear sweet Simon, we miss you!
August 9, 2004 "Beginning Life without Simon"
Thank you, thank you, thank you to the people who have been filling our home with lovely plants, flowers, fruits and other gifts. Our spirits are lifted.

For those who may be considering similar gifts, we would like to request that you consider holding back until we have had time to announce our plans to establish a memorial fund in Simon's name. Much as we love the gifts, we would be grateful for generous support of our efforts to begin a fund to memorialize Simon's beautiful spirit.

As noted on the main page of this site (I expect the photo of a smiling Simon is a welcome change after the somber sketch), we have more or less finalized plans for Simon's memorial service. The service for Simon (all ages welcome) will be held on the morning of Saturday, August 28, 2004 in Salt Lake City. We realized the most important thing for us would be to enable as many friends and family to attend as possible, and we knew that allowing more time to plan might make that a little easier all around. So many people have folded Simon into their hearts, and we want you all to feel welcome at his memorial service. My feeling is that if you feel a need to be at the service, you probably need to come!

We are planning a service that we hope will incorporate children and adults meaningfully. There will be some pre-service activities to help children (and brave adults) draw and write memories about Simon. During the service, there will be time for sharing from these memories. We hope to make it possible for children to come and go in a way that helps them feel comfortable. Of course there will be music and wonderful words. And lots of tissues.

* * * * * * * * * * * * * * * * * * * * *

As a family, we have been moving through our days. I hope someday to write more about Friday and the hours of being with Simon's body before he was taken to the mortuary. There's so much to process, so much to say. I will say now that the five of us ended the day with a visit to Red Butte Garden in Salt Lake City to view a lovely sunset.
We (Mary, Markus, Miriam, Grann, and Granddad) were able on Saturday to focus energy on necessary planning for a service, a visit to the mortuary to sign papers authorizing Simon's cremation, and a visit to Mt. Olivet Cemetery to continue our search for the right plot. We even had dinner out.
On Sunday, we drove out to the Sundance Resort, where I (Mary) was able to have an afternoon at the spa (a birthday gift in June that had not yet been possible). The body work and massage treatments were very soothing. The rest of the gang took the chair lift up the mountain and hiked a bit before coming back down. Miriam charmed the spa receptionist, who gave her a lovely nail polish job at the end of her hike. We went out to dinner again! On the way home, we star-gazed at the summit of Emigration Canyon. Miriam said with a twinkle in her voice, "If you see a shooting star, it's probably my brother, saying hi!"
Today, Mary's parents went on a little road trip to hook up with the Tabbutts (my dad's sister Betty, Fred, Mark, Denise, Nicholas, Owen, and Sam) in Sun Valley, Idaho. That left our new nuclear family on its own to find a new footing. The three of us ran errands and shopped most of the afternoon. We received a lovely dinner from Kay Beaton, and we sat down for the first time as the three of us at the table without Simon. Of course, Simon missed many meals during the last two months, but he was always nearby. Now we must comprehend our new configuration.
Togetherness is important to all of us and especially to Miriam. We will keep bumbling along to find our new way.
August 6, 2004 "Farewell to Our Brave, Sweet Simon"
Simon died quietly today, Friday, August 6, 2004 at 5:04 am. He was reclining comfortably in bed, nestled closely by Markus and Mary, with Miriam sleeping nearby. We had gotten the advice from our nurses to turn him every few hours to avoid the accumulation of fluid in his lungs. However, for the last 24 hours he insisted on sitting up. He frequently voiced the words "Sit me up, right now." And that's the way he passed: Sitting up, articulate, and in control. We miss our wonderful boy.

This photo of a fascinated and transcendent Simon was taken in March at the Exploratorium in San Francisco.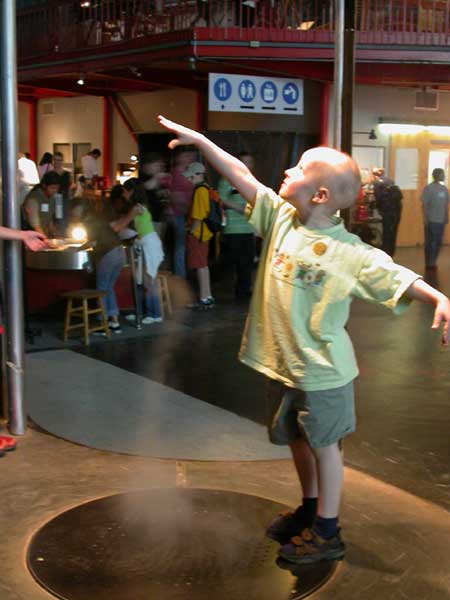 August 4, 2004 "Hanging on Quietly to Dear Life"
Simon is resting quietly this afternoon. He had a bath (in bed) this afternoon, and a dressing change. We continue to be amazed at his stamina. We love every moment with him, even as we miss the times when he could tell us more.

In the last 24 hours, he's made several clear requests to sit up for a while. He woke us around 2:00 am and said, "Sit me up now!"

We continue to do all we can to keep Simon comfortable.

If you haven't yet read the Waterbug Story, go to the STORIES FOR SIMON page and follow the link. The lovely story seems to be helpful for everyone.

Gotta watch Pokemon with Simon now. We just got a TV/VCR set up in our bedroom. It's on loan from a church friend. Lee Ellington helped us find a TV to borrow, and she said she had enough offers to put one in every room of the house. It's wonderful to be so cared for.

So many amazing gestures come our way. Today, Sarah and Ellen Williams came over to visit. Ellen and Simon sat at the same table all year in first grade. Sarah, her mom, is a beautiful singer and guitar player. She sat down on the bed next to Simon and played him exquisite music for about 15 minutes this afternoon. We were transported.

I just received delivery of a lovely supper from my parents. My dad came in last night. Room service has been great with my mom here. I am so grateful because I just can't tear myself from Simon's side to go down for most meals.
August 1, 2004 "Addendum"
I have just looked in on our "Neuroblastoma Family" via our listserv. I am saddened to report that Alex, of the Amazing Lemonade Stand, died today. Her parents informed us: "At about 4 pm today Alex passed on peacefully with us holding her hands. No pain, she just went to sleep."

Blessings on Alex and her wonderful family. May Alex's beautiful gift of raising awareness and funds to fight neuroblastoma flourish on and on.
August 1, 2004 "Simon is Still Here!"
Simon had a peaceful night, and he's had an interesting day. For the first time in several days, he has uttered actual words. Unfortunately, the first one was "Ow!" We quickly realized he was uncomfortable in his position sitting on Mary's lap, so we settled him back on the bed in his now customary supine position.

He's been doing a lot of arm movement today, too. Among other gestures, he's made a pretty good effort to remove the tape on his broviac dressing site. We find it very appropriate that he's feeling sick of that thing. Maybe he's seen himself running free in his next world and he wonders why it's still there when he reaches up.

A lengthy chat with Dr. Sarah Friebert today helped us realign our approach again slightly. Dr. Lemons has been out of town all week, and we've had less medical advice than usual. She helped us decide it was time to stop Simon's steroid, since it may well be prolonging the process for him. We have increased his pain med level to compensate for removing the pain relieving effects of the steroid. We are also giving ativan slightly more frequently, a couple of times every 3 hours instead of every 4. Sarah stressed that we definitely want to prevent Simon from having a seizure, and ativan does that as well as relieve agitation.

Simon has uttered a few other things, most of which we can't turn into words, but we rejoice in hearing his sweet voice again. We figure he's telling us some important things, or he's talking to people we can't see.

Our (former) minister Silvia spent quality time with us this afternoon. Miriam had another fun playdate (this time a trip to the zoo) with the Hamermesh family, visiting from Ann Arbor. Yesterday she joined them for a swim at their hotel. Friday, they came to the house and made groovy potholder purses. Amy has done a great job gathering Miriam to her bosom and incorporating her into vacation activities. Jonathan and Miriam H. have also been great companions. David H. took today off from his geneology studies at the LDS Archive (closed on Sunday) to join in today's fun. We are SO lucky to have Silvia Behrend and the Hamermeshes here with us.

Grann, of course, is doing mighty work with laundry and room service, as many meals have been upstairs in bed or nearby. I have to share a funny/sweet term coined by our friend Linda for my mom here: "Grandarella". Mom patiently tends to various needs, fields phone calls, and bows out from time to time to give us space. She also does a lot with Miriam, when Miriam isn't otherwise amused.

Ativan time. Gotta go.
WHAT'S HAPPENING Archive
Back to WHAT'S HAPPENING main page.

Simon's story, and that of our family as we live on without him, appears on this Web site in reverse chronological order. Anyone who wants to see the whole story can scroll down to the bottom of this archive and start there. We have listed the treatments that Simon underwent in the short summaries for each archive link in case other families facing neuroblastoma want to take a look at Simon's experience as a point of reference.
In 2006, entries on this page became sporadic. We named a ski run "Simon's Way". Miriam went to first grade. In December, she reached the point of being older than Simon was when he died.
2006

The second half of 2005 has come and gone. We hit the one year point since Simon's death on August 6th. We celebrated Simon's memory with a concert by the terrific group Two of a Kind at Utah's Hogle Zoo. Miriam has started kindergarten, Markus continues to work hard as an assistant professor, and Mary is doing a little teaching (voice and German) and pursuing her interest in writing.
July-December 2005

Miriam finishes preschool. We celebrate Simon's birthday on May 17, 2005 with an outpouring of community love and support during a Lemonade Stand in Simon's memory. We travel to Oberlin for Mary's 20th college reunion and on to Ann Arbor to hold a second memorial service for Simon on June 3rd. Mary attends a writers' workshop in Salt Lake City.
May-June 2005

Acts of mourning continue as life also moves forward. Mary travels to Denver and meets the bereaved family of Becca Lockler.
April 2005

The pace slows. We reach six months since Simon died, then seven. Mary and Miriam travel to Ann Arbor for the first time since Simon died.
February and March 2005

Working through grief; working on life; trying a few new things.
January 2005

Approaching "the holidays" without Simon and marking time with the moon.
December 2004

Our fourth month without our dear Simon included a busy and rewarding celebration of Simon's legacy with the music duo, Gemini.
November 2004

Life without Simon crawls along. Memorial tributes of all kinds are underway, from Simon's Memorial Fund to friends and family holding events in Simon's honor.
October 2004

Life without Simon creeps along.
September 2004

Simon died on Friday, August 6. We held his memorial service on August 28, and we established the Simon Craig Vodosek Memorial Fund to honor his beautiful spirit.
August 2004

The month began with Simon's wonderful Celebration of Life Party. As his disease progressed, he slowed down more and more, but he hung in there for the whole month.
July 2004

A wonderful end of Simon's first-grade year (June 4) leads quickly into a rapid progression of disease with increasing pain and weakness. Our focus is on pain control and other comfort measures to allow Simon to enjoy his remaining time.
June 2004

Recovery from radiation side effects and enjoying good energy to get back to school. Second course of temazolomide/irinotecan. Simon turned 7 on May 17!
May 2004

CEP-701 trial abandoned after 4 weeks because of further progression; begin palliative treatments to ease symptoms of jaw tumor and general disease, including radiation and chemo with temazolomide/irinotecan.
April 2004

Chemo abandoned after further progression; begin CEP-701 phase I clinical trial at UCSF
March 2004

More chemo (round 2 topotecan/cytoxan)
February 2004

Disease progression (widespread in skeleton) discovered during work-up at Memorial Sloan Kettering Cancer Center; begin salvage chemo with topotecan/cytoxan
January 2004

Begin accutane (vitamin A derrivative to fight neuroblastoma); consultation with Dr. Kate Matthay at UCSF
December 2003

ITP (immune-mediated thrombocytopenia purpura) continues; limited ability to treat cancer
November 2003
October 2003

Irinotecan/vincristine at home
September 2003

ITP chaos
August 2003

Onset of ITP (immune-mediated thrombocytopenia purpura) AND move to Salt Lake City
July 2003

3F8 monoclonal antibody therapy at Memorial Sloan Kettering in New York
June 2003
May 2003

Exploring monoclonal antibody therapy; prepared with topotecan/cytoxan
April 2003

Irinotecan/vincristine in the treat then evaluate mode
March 2003
February 2003

Still recovering from MIBG therapy
January 2003

Finally starting kindergarten!
December 2002

MIBG therapy
November 2002

Recovering from transplant
October 2002

Stem cell transplant
September 2002
August 2002

Surgery
July 2002

Several months of topotecan/cytoxan in the treat, scan, evaluate mode
June 2002
May 2002
April 2002

Mixed response to therapy--taken off COG A3973 after 4 chemo cycles
March 2002

Stem cell harvest (to be purged)
February 2002

Diagnosis and starting treatment
December 2001/January 2002