WHAT'S HAPPENING Archive December 2004
December 31, 2004 "A Few More Pictures"
When I wrote my last update, I had a couple of other images that I forgot to include. So, here they are.
Miriam made this "creative writing" page at school in September. I was hanging out as a helper that morning and was able to watch her process. The teacher asked the children to take circles for the heads of each family member and create a family group. Then, the children dictated some things about what the family likes to do together. I was watchful to see how Miriam approached our family, but she was very clear about needing four circles. The only thing she wondered about was how to draw Simon's hair--should it be before or after chemo?
On Christmas Day, when we went tubing, Miriam drew these two notes and gave them to me in the car. She knew I had been feeling sad about missing Simon, and I think she wanted to give me a picture of the two of them together.
I can't resist sharing this kiss Miriam gave Markus, at the camera.
December 26, 2004 "A Time of Many Significances"
Tonight the moon is full, now for the fifth time since Simon died in August. We have had good moon-viewing over the past several days. On some nights, I have found patches of moonlight coming in through the skylights, making illuminated boxes for me to stand in. Twice it has illuminated a patch on the wall just next to my side of the bed. I have felt reached by the moon over these Christmas days.

Today three years ago is the day that we learned definitively of Simon's cancer. Christmas in 2001 was cloaked in a sense of mystery and foreboding, as we awaited the chance to do a CT scan on December 26. Bone marrow tests on December 21 had shown metastatic cancer in Simon's pelvis. The doctors were quite certain it was neuroblastoma, but the CT was needed to locate the tumor(s). With the Christmas holiday, the CT could not be scheduled any sooner. I know many readers of this site are familiar with this part of the story. Now it is time to wonder: Has it only been three years? The anniversary of diagnosis connects us back to the time when Simon was not a sick kid, but a regular kid, blessed with good health and on-target development.

Our Christmas has been pleasant and quiet. My busy singing week ended on Friday after choir performances at church for Solstice on the 18th, Lessons and Carols on the 19th, and Christmas Eve. Our family activity schedule became less busy when Miriam came down with a headache, tummy ache, and fever on the afternoon of the 24th. So, we skipped the pageant (she was supposed to be an angel). Here are some photos from last year's pageant, at which Miriam was an angel and Simon was a very happy black sheep (shown with sheep Ian and shepherd Elise).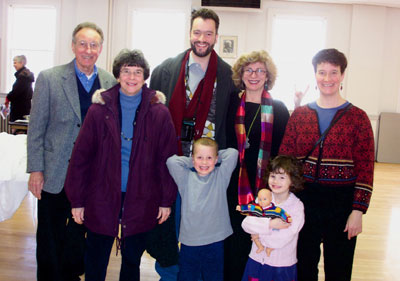 >
Miriam awoke from her napping on Christmas Eve enough to hang stockings. I had knit stockings for Simon and Miriam last year, and we didn't hesitate to hang both again this year. The next morning, as Miriam was exploring to see if Santa had come, she saw Simon's stocking hanging there, looking flat and empty. She said, "I guess Santa knows that Simon isn't here anymore."
The three of us enjoyed sharing a much smaller and undramatic pile of presents than in past years. It was a nice gift sharing and totally non-overwhelming. Once we were done with that, we had breakfast and looked for a plan for what to do on the crystal clear day. Markus suggested we try tubing at Soldier Hollow (about an hour away), and that's what we did. The activity consists of reclining on your innertube while it is gently dragged up the hill attached to a moving cable. Then, you walk over to the starting point and ride down the hill on your tube. Attaching yourself to others can make the whole group travel faster. Miriam tired pretty fast, so Markus and I did some solo runs before heading home.
Miriam liked being in the lodge for hot chocolate. Another family was resting there as well, with a little boy (about 2) and an older sister (4 or so). I found myself drawn to that family and to watching the interplay of the siblings. We had such a good configuration with Simon and Miriam together. It's hard to have that missing now.
This evening, Markus, Miriam and I went to Ballet West's "Nutcracker". We saw the show last year during a special audience performance, to which Simon was invited by his home care company. We all remembered how Simon grew restless and didn't want to stay through to the end, whereas Miriam sat in rapt attention. We enjoyed this evening's show.
So, we've done it. We've had our Christmas without Simon. There were some searingly painful moments, but mostly it's hard to grasp the missing parts. In July, Simon and I looked at pictures of the Christmas he spent in Germany when he was 18 months old. The Vodosek family tradition is to hang festively wrapped pralines on the tree. Simon told me he wanted that for our tree this year. Knowing he would not live to see another Christmas, I choked back my realism and promised him that we would have tissue-paper wrapped candies on the tree this year. In a way, once we got those up on the tree, I felt I was "done" with my Christmas obligations, and the rest of it meandered into place. Here is a picture of our pretty little tree.
December 16, 2004 "A Quiet Evening, with Some Thoughts on the Moon"
I am sitting in light from three sources very important to me. The first, although not spiritual or aesthetic, but nonetheless a trusted companion, is my laptop. The second is a near-white onyx votive candle bowl. I began placing gently scented Reiki candles in this holder sometime last winter. I bought the candles with Simon in mind and selected several colors/energies that called to me: joy (a golden yellow), love (a warm pink), manifest a miracle (pale pink), healing (dark plum), and courage (blood red). Over the summer, Simon liked to have these candles burning sometimes. His favorite was, of course, joy. Tonight I am at the end of a "healing" candle, which is melting on top of the puddle from the joy candle I burned prior to it.

The last source of light, and one I am strongly drawn to now, is the moon. I can see it in the southwestern sky from my chair against the front wall of our large upstairs playroom. It's a heavy crescent moon, nearly lying on its back. I'm guessing it's about 3 more days until it waxes to the half moon. I have begun following the U.S. Naval Observatory Web site to help me keep track of the moon. I just checked. It's two days to the first quarter (which looks like half a moon).

The moon has taken on a lot of meaning for me. Simon and I were always fascinated by the moon, and I can remember pointing it out to him when he was very small and noting his interest then. One startling recollection I have is from the week that Miriam was born. Miriam arrived about a week "early" on September 20, 1999. She took up permanent residence in our home in Ann Arbor on September 21. A day or so later, I remember waking up quite early and discovering Simon also awake and restless, too. He was 2 and a few months old. I could tell that a bright moon was shining at a low slant into our bedroom from the west. It was about 5:30 am, and Simon and I decided we just couldn't sleep. So, we put on shoes and jackets and walked outside and across the soccer field to get a good look at the moon, which was huge and sinking into the trees before us.

I remember the invigoration of the morning and Simon's happy engagement in our little outing. It felt like a special time for the two of us in the wake of the big arrival of a new baby. I think my parents were asleep on the sofa bed in our living room when Simon and I tiptoed out. I've just consulted the Naval Observatory Web site and found that the moon was indeed full on September 25, 1999, so our morning moon adventure probably happened a couple of days before the full moon. Other moon memories are strongly associated with Simon for me, and this one may be the finest.

[I have just taken a quick bathroom break, and I returned to my seat to find the crescent moon vanished. It had been sinking, and growing more golden, over the lights of the city in the valley to the west. But it must have dipped behind some clouds. I don't think I was gone long enough for it to set altogether. I have grown very attached to the moon as a source of Simon's light shining back on me. I feel quite agitated when I can't find the moon. Sometimes it's cloud cover. Sometimes the moon isn't visible in the night sky when I'm able to look. I get a deep sense of serenity when I do see the moon. This evening, I arrived home from yoga class at about 6:45 pm. Miriam was standing at the back sliding glass door. In the sky to the right of her shone the silvery crescent moon. I enjoyed that moment of feeling that I could see my two children at the same time again.]

At Simon's Memorial service on August 28, 2004 we heard Simon's favorite German lullaby, "Der Mond ist aufgegangen" sung by soprano Carol Ann Allred. The first time I heard this song about the moon, with its beautiful, somber melodic line and insightful text, was during Simon's early infancy. In the middle of some night, I had exhaustedly refused to rouse myself and attempt to put our wide-awake baby back to sleep. Markus stepped up to the task. I heard him singing in Simon's room. After a while, I got up, maybe to go to the bathroom or maybe to try and help. I looked into the room and saw Markus in his dark green pyjamas, holding Simon against his chest, and singing out of the German songbook, which was resting on Markus' music stand by the light of a dimmed halogen lamp. What a devoted Daddy--sightreading songs to his son in the wee hours of the morning.

As we put Simon to bed many, many more times, Markus and I both learned this song by heart. At some point, Simon began to request the song: "Mon' gange'". He continued to love that song, long after his illness made him too irritable to listen to German spoken to him. This past summer, Markus and I sang it to him during his final days of quiet immobility in bed. It was the first thing I knew for certain about Simon's memorial service, and I think I gave the music to David Owens to think about an arrangement as early as mid-July.

After Simon's memorial service, Markus, Miriam and I took a trip to southern Utah for several days. During our first nights in Torrey at the Skyridge Inn, a gorgeous, heavy full moon crossed the sky each night, pouring silver light into our room. I was mesmerized by this first full moon since Simon's death. And I have been moon-watching ever since. Tonight's moon is the fifth to wax since Simon died.

In other news, Markus has just returned from a week-long trip to Germany. He spent time observing a work group at a medical instrument supply company near Nürnberg. He will use the data he gathered in writing a business case. While he was in Germany, he was able to spend the weekend with his sister, Christina, in Berlin. On his last evening, he was able to drive to Stuttgart for one night in his parents' home before flying back from Frankfurt. The possibility of the trip arose suddenly, and we made a quick decision for Markus to go. Miriam and I had a good week on our own. We kept busy with lots of activities, and we had good help from friends like Kylie, Trina, and Steve; Lauryn, Kim and Ambrey; Emma and Amy. The list goes on!

But it was also very difficult to be separated for a week right now. Maybe it was because of Markus' absence, or maybe it was for other reasons, but I had some very painful times in the last week. I was doing pretty well until Sunday. At church, I heard an excellent sermon by Tom Goldsmith about giving, based mostly on the passage in Mathew in which Jesus instructs followers to "turn the other cheek" and "go a second mile" in response to adversity. He illustrated his point about what giving can mean by recounting his own experience as the "banjo man" in children's hospitals. Tom was really talking about all the incredible help he received to realize his vision of this "banjo man". But as he talked, he mentioned hospital waiting rooms, sick children, IV poles, well siblings. It was all very real for me, and it revived many dormant memories of time spent in hospitals with Simon. I was in tears at the end of the service, and our friend Trina whisked Miriam off for the afternoon, giving me time to hang loose.

Later that day, I moved furniture in the living room to make space for our Christmas tree. I decided to move our Simon altar table to another location. To fit in the new space, I needed to cut down the size of the table and remove some of the items from the altar. Mostly these were easy choices to make, and I was able to put away objects like Simon's beloved Yugi-Oh Duel Disk. I kept other items there, like Simon's tie-dye T-shirt outfit, his beanie baby pteradactyl, and the monarch butterfly from Marina. Still, the process made me sad, and the tears of the morning were easily restarted.

I am convinced that it has to be this way. Times of feeling deepest sadness must come, and go. Tuesday I had a burst of energy to rethink our playroom layout and to begin to consider what to do with Simon's toys. You can imagine the complexity of this task and all the emotions. It's too late to tell more of the story now, but I hope to come back to this one because, painful as it was, I learned a lot.
December 2-3, 2004 "Home Again; Finding it all very difficult"
This "entry" ended up very long. If you're not in the mood for text, be sure to scroll down the page for the photos of Miriam and her cousins.
Anyone who has read my copious entries to this Web site may sense the significance of my feeling pretty clammed up right now. My urges to write are further between these days, and they also circle around the same territory, more or less, rather than striking into something new. Without Simon's life and progress to report on, I now have the processing of our grief as a focus. Our grief feels mostly like "more of the same", although it varies in its ickiness and intensity.
So, today my leaden hands may need to keep me brief. Or maybe I'll find my groove. I do hate the inertia I feel.
I know that I owe a second installment on the Gemini activities in Salt Lake City. What a busy and exciting time that was! San and Laz went home on November 16, and almost immediately, we began our Thanksgiving travel. I have decided to write up the rest of the Gemini story, with photos, as part of the SIMON'S LEGACY section. I'll let you know when I get that done.
Meanwhile, I'll tell you about our recent trip. Miriam and I traveled on November 20 to Oberlin to visit with my parents and many, many friends in my hometown and at my alma mater. It was the first plane trip that Miriam and I had ever taken together, just the two of us. We got along great, and I noticed more concretely some of the gaps in my life with Miriam after all the time I spent with Simon.
Packing for the trip was very difficult for me. My most recent trips had all been with Simon for medical care. My packing mindset still naturally wanted to include the long list of medical supplies and records that I grew accustomed to lugging about. The act of traveling brought up a host of memories for me, mixing anguish with delight.
Miriam is a great traveling companion. She struts energetically through the airport, pulling her suitcase full of distractions for the plane and toting her 'Merican Girl doll, Emma, in her backpack. She enjoys the sights and sounds of the plane and savors the simple snacks served in flight.
In Oberlin, we did all kinds of stuff in our four days. We attended First Church on Sunday morning, where I received many hugs and good wishes. That congregation has been very supportive of us throughout Simon's ordeal with cancer, and beyond. I felt taken under the wing of a group of caring people, where no explaining was necessary. I sensed the relief of many friends who truly felt better finally having the chance to give me a hug in person. I don't know what I expected from this "first time" back in my hometown since Simon's death, but I guess it was easier than I anticipated.
Linda Britt, our very special daycare provider in Ann Arbor, took advantage of the chance to visit with us when we were "only" a 2.5-hour drive away. She joined us for Sunday afternoon and early evening. All five of us (including my parents) went to see the Oberlin Opera Theater production of "Orpheus in the Underworld". We all had a good time, and Miriam was an exemplary audience member. After the show we visited my buddies in the costume shop and took a tour of the backstage area. It is always fun to relive the busy theater days of my college years.
Linda's visit included time to play games with Miriam (especially "Kids on Stage", which is a lot of fun). In the evening, we also looked at many photos of Simon, including images of his final life stages. Linda had taken Simon into her home daycare when he was 15 months old, having first met him when he was about 8 months old. As with all her daycare kids, she developed a deep attachment to him. It meant a lot to share these delicate memories with her. I am still pondering how to share the story of Simon's dying with others. So far, I seem to need to do it in person.
* * * * * * * * * * * * * * * * * * *
The Lynne Morgan Aside
I've just interrupted my writing for a visit with Lynne Morgan, also Oberlin High School class of 1981. Miriam and I ran into Lynne at Primary Children's one Tuesday evening in October. Bizarrely enough, Miriam had just had a coughing fit, which induced a spell of vomiting, right outside the elevator on the main floor. I was covering the mess with paper towels before the cleaning staff arrived. Miriam was recovering. From the nearby stairwell, I heard someone say, "Is that Mary Craig?" There was Lynne, heading home after her shift as a nurse on the inpatient surgery ward. The grapevine had, in fact, let me know that Lynne now lived in Salt Lake City, so I was not completely surprised. Still, it was a pretty amazing moment.
A moment later, the chaplain who was leading my grief group came down the stairs. His name (which is irrelevant to the story but I can't resist mentioning) is Michael Jackson. Michael is a retired United Church of Christ minister. As he came upon our unusual scene, I explained that Miriam had had a stomach upset and that I had just run into a classmate from Oberlin High School. He said, "Oh, I know the man who used to be the minister at the UCC church . . . " Lynne and I offered the name of John Elder, and Michael said, yes, that's the one. Interconnectedness, all over the place. (The cleaning staff arrived with a monster wet vacuum machine and eradicated our little mess.)
Lynne and I then exchanged contact information. A few weeks later, we bumped into each other again at the Unitarian Church on a Sunday morning. She was there to check the place out, and I was getting ready to sing with the choir. Then today Lynne gave me a call and was able to stop by for a visit this afternoon. We found so much to talk about. I expect we'll be seeing a lot more of each other: two one-time Oberlinians living in Salt Lake City and both deeply connected to the world of pediatric medical care.
* * * * * * * * * * * * * * * * * * *
Back to our time in Oberlin. Miriam and I were also able to enjoy visits with Rebecca Cross and Randy Coleman, and their children Schuyler and Emma. My voice teacher from the Conservatory, Daune Mahy, joined us and the Cross-Colemans for dinner on Monday evening. We have shared many Thanksgivings with this group, and it felt good to be together. At dessert time, we remembered Simon together by lighting candles, just as we do at our house, and eating a special pie. I made a repeat of the pie Miriam and I made on November 17 to mark Simon's seven-and-a-half birthday. It was a yummy apple pie with words written right into the crust: "We Miss You, Simon". Our little ritual felt good in this special circle.
The next day was Blodgett day. Sally and Jim Olson were in from Seattle with Amy (6) and Sarah (10). Barbara was in from New Haven. We visited during the day, wandered around "downtown", and had dinner over at the Blodgetts'. Jim, a pediatric oncologist, has been a constant source of information and support for us during Simon's illness. It was painful but helpful to show him (and Sally and Barbara) the photos of Simon as he changed through the final stages of disease. Simon's diagnosis is still inextricably tied in my memory to the death of Jeff Blodgett in November 2001. Our Oak Street cluster was nowhere near recovered from that huge sadness when Simon's disease barged in and stole the limelight in December that year. (Jeff died of prostate cancer at the age of 69. Our two families have lived across the street from each other since the early 1960's.)
[Then I went to yoga, followed by "date night" with Markus--we actually went out to dinner, the two of us. Miriam is now happily receiving Madlen as her Thursday night sitter.]
(December 3, 2004)
Our time in Oberlin also gave us a brief visit with Jill Steinberg, in from Seattle, and Priscilla Steinberg. While wandering the cemetery to visit my Williams grandparents and Jeff Blodgett, who rest together under a lovely pine tree, we ran into Karen Merrill and Martha Umphrey and their sons Theo and Dash, along with Dan and Marly Merrill. The list of folks we saw really does go on and on. Oh, and I had a chance to catch up, ever so slightly, with Salvatore Champagne. Sal lived in Karlsruhe, Germany when Markus and I were first married and living there. Although we had crossed paths at the Oberlin Conservatory, Sal and I didn't get to know each other until we met in Karlsruhe, where he sang tenor at the state theater. He recently joined the voice faculty at the Oberlin Conservatory. Kudos to Sal, my most accomplished knitting student ever!
Moving on to Thanksgiving travels (is anyone still reading this?). Miriam and I rode with my parents to Indianapolis for a full house at David and Jocelyn's (David is my brother). Markus flew in that evening, and Jocelyn's mother, Phylis, also joined the family group. I suppose our patient hosts might have a different take, but we guests felt very well accommodated in our party of ten. Miriam and her cousins Claudia (8) and Eliza (5) played Barbies almost non-stop. We whiled away the days on museum visits, games (Apples to Apples, Uno), puzzles, walks, a swim, and leisurely meals with lots of conversation. We mid-generation grown-ups even caught a matinee of "Kinsey".
Miriam, Claudia, and Eliza dressed for Thanksgiving dinner.
Go ahead, make a really goofy face!
For Thanksgiving dinner, which David and Jocelyn served with great flair and pretty minimal help from the rest of us, we were joined by their good friends Lisa and Ed, with their baby Michaela, and Linda and Kevin. The guests brought yummy food, too, and we had a great dinner. Jocelyn led a round of giving thanks by raising her glass in memory of the missing men: Simon; her father, Kenny; and Lisa's father. Our loss had company at this Thanksgiving table.
After dinner, we all lit "Simon" candles together in memory of our missing loved ones. We had brought a little altar set for their home, and it was beautiful to see 14 candles blazing around the central candle. During our after-dinner walk, the moon was out and nearly full. More and more, it seems to reflect back to me the shining light of my little boy, as if Simon's beautiful energy were absorbed by the sun and able to reach us now via the moon.
It was good for us to be away and among family. But it was very hard for me to leave the place where Simon died. And it has been hard to come back. Another layer of loss is revealed.
Professor Craig reading materials for his religion class, with Lilly the kitty assisting. (We remain quite trigger-shy, and I must admit these are the only photos from our 9-day trip. It is hard to refind reasons to take photos after so much focus on capturing Simon.)
WHAT'S HAPPENING Archive
Back to WHAT'S HAPPENING main page.
Simon's story, and that of our family as we live on without him, appears on this Web site in reverse chronological order. Anyone who wants to see the whole story can scroll down to the bottom of this archive and start there. We have listed the treatments that Simon underwent in the short summaries for each archive link in case other families facing neuroblastoma want to take a look at Simon's experience as a point of reference.
In 2006, entries on this page became sporadic. We named a ski run "Simon's Way". Miriam went to first grade. In December, she reached the point of being older than Simon was when he died.
2006

The second half of 2005 has come and gone. We hit the one year point since Simon's death on August 6th. We celebrated Simon's memory with a concert by the terrific group Two of a Kind at Utah's Hogle Zoo. Miriam has started kindergarten, Markus continues to work hard as an assistant professor, and Mary is doing a little teaching (voice and German) and pursuing her interest in writing.
July-December 2005

Miriam finishes preschool. We celebrate Simon's birthday on May 17, 2005 with an outpouring of community love and support during a Lemonade Stand in Simon's memory. We travel to Oberlin for Mary's 20th college reunion and on to Ann Arbor to hold a second memorial service for Simon on June 3rd. Mary attends a writers' workshop in Salt Lake City.
May-June 2005

Acts of mourning continue as life also moves forward. Mary travels to Denver and meets the bereaved family of Becca Lockler.
April 2005

The pace slows. We reach six months since Simon died, then seven. Mary and Miriam travel to Ann Arbor for the first time since Simon died.
February and March 2005

Working through grief; working on life; trying a few new things.
January 2005

Approaching "the holidays" without Simon and marking time with the moon.
December 2004

Our fourth month without our dear Simon included a busy and rewarding celebration of Simon's legacy with the music duo, Gemini.
November 2004

Life without Simon crawls along. Memorial tributes of all kinds are underway, from Simon's Memorial Fund to friends and family holding events in Simon's honor.
October 2004

Life without Simon creeps along.
September 2004

Simon died on Friday, August 6. We held his memorial service on August 28, and we established the Simon Craig Vodosek Memorial Fund to honor his beautiful spirit.
August 2004

The month began with Simon's wonderful Celebration of Life Party. As his disease progressed, he slowed down more and more, but he hung in there for the whole month.
July 2004

A wonderful end of Simon's first-grade year (June 4) leads quickly into a rapid progression of disease with increasing pain and weakness. Our focus is on pain control and other comfort measures to allow Simon to enjoy his remaining time.
June 2004

Recovery from radiation side effects and enjoying good energy to get back to school. Second course of temazolomide/irinotecan. Simon turned 7 on May 17!
May 2004

CEP-701 trial abandoned after 4 weeks because of further progression; begin palliative treatments to ease symptoms of jaw tumor and general disease, including radiation and chemo with temazolomide/irinotecan.
April 2004

Chemo abandoned after further progression; begin CEP-701 phase I clinical trial at UCSF
March 2004

More chemo (round 2 topotecan/cytoxan)
February 2004

Disease progression (widespread in skeleton) discovered during work-up at Memorial Sloan Kettering Cancer Center; begin salvage chemo with topotecan/cytoxan
January 2004

Begin accutane (vitamin A derrivative to fight neuroblastoma); consultation with Dr. Kate Matthay at UCSF
December 2003

ITP (immune-mediated thrombocytopenia purpura) continues; limited ability to treat cancer
November 2003
October 2003

Irinotecan/vincristine at home
September 2003

ITP chaos
August 2003

Onset of ITP (immune-mediated thrombocytopenia purpura) AND move to Salt Lake City
July 2003

3F8 monoclonal antibody therapy at Memorial Sloan Kettering in New York
June 2003
May 2003

Exploring monoclonal antibody therapy; prepared with topotecan/cytoxan
April 2003

Irinotecan/vincristine in the treat then evaluate mode
March 2003
February 2003

Still recovering from MIBG therapy
January 2003

Finally starting kindergarten!
December 2002

MIBG therapy
November 2002

Recovering from transplant
October 2002

Stem cell transplant
September 2002
August 2002

Surgery
July 2002

Several months of topotecan/cytoxan in the treat, scan, evaluate mode
June 2002
May 2002
April 2002

Mixed response to therapy--taken off COG A3973 after 4 chemo cycles
March 2002

Stem cell harvest (to be purged)
February 2002

Diagnosis and starting treatment
December 2001/January 2002